El compromiso del Departamento con la investigación se pone de manifesto, también, en la formación del personal investigador mediante la dirección de tesis doctorales. Desde el año 1992 se han dirigido o presentado en el Departamento más de un centenar de tesis.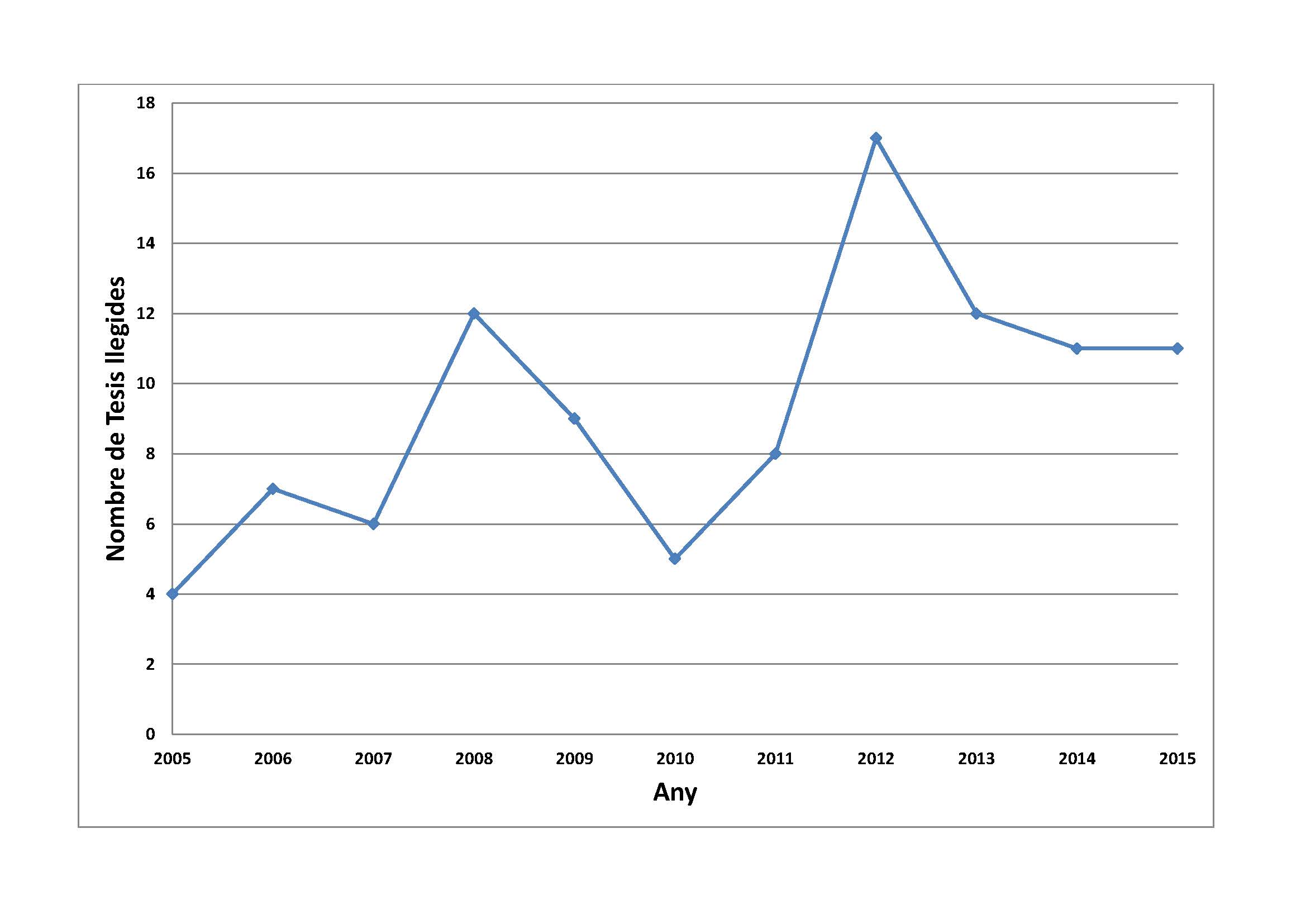 Las tesis leídas en los últimos años han sido las siguientes:

Año 2010
Los cambios en el paisaje y su efecto sobre la distribución de especies: modelización y aplicación a la conservación de las aves de hábitats abiertos en paisajes mediterráneos
Factores que limitan la regenerción natural de las especies mediterráneas del género Quercus L.
Grain yield and resource use efficiency of bread wheat, barley and durum wheat under Mediterranean environments
Estudi de models matemàtics aplicats a la predicció d'epidèmies de la cendrosa de l'ordi (Blumeria graminis f. sp. tritici)
Hormonal regulation of the larval development of Sesamia nonagrioides
Año 2011
Residual effects of alfalfa and pig slurry on maize and wheat under irrigated semirarid conditions.
Molecular and physiological approaches to enhance the performance and productivity of rice.
Towards the mineral biofortification of rice for food security.
Patrones espacio-temporales de la colonización postincendio de las aves de hábitats abiertos en paisajes mediterráneos.
Efecte del Panís transgènic Bt en artròpodes no diana.
Mapeo por secuenciación de alto rendimiento y descubrimiento de SPNs en melocotonero.
Biology studies and improvement of Ceratitis capitata (Wiedemann) mass trapping control technique.
Estrategias para optimizar el uso del nitrógeno en cultivos extensivos de regadío del Valle del Ebro.

Año 2012
Morpho-physiological bases of spike fertility under contrasting nitrogen availability in durum wheat.
Biotechnological interventions for crop improvement in the context of food security.
Towards vitamin biofortification in staple cereal crops in a sociopolitical and food security context.
Role of allyl esters in pest control.
Utilidad de los recursos genéticos en mejora: potencial de las variedades tradicionales de trigo duro de la cuenca mediterránea para la mejora de la calidad y el valor agronómico en relación a su origen geográfico.
Análisis de la población doble haploide de cebada, procedente del cruzamiento de Albacete x Plaisant, para el estudio de la translocación recíproca presente en Albacete.
Relationships between primary and secondary growth in two Mediterranean Quercus species.
Barley Adaptation to Stress Prone Environments.
Cydia pomonella (L.) (LEPIDOPTERA: TORTRICIDAE). Aspectos de su taxonomía, comportamiento y monitoreo aplicados a programas de control en grandes áreas.
Cytological, genetic and agronomic characterization of a barley reciprocal translocation.
Genetic gains and changes in the pattern of adaptation of bread wheat varieties grown in Spain during the 20th century.
Exploring de soil mycelium of two important edible ectomycorrhizal fungi, Lactarius deliciosus and Tuber melanosporum through the use of melecular techniques.
Soil organic carbon dynamics and carbon sequestration in a semiarid Mediterranean agroecosystem: effects of conservation tillage and nitrogen fertilization.
Estrategias reproductivas de dos especies de Frutos secos: almendro y nogal

Año 2013
Estabilidad mutante sugary1 en maíz dulce
Maize seeds as a production and delivery platform for HIV microbicides
Useful eco-physiological traits for wheat breeding programs
Differences in the genetic control of pre-heading phases in barley and wheat, and relationships with agronomic traïts
Analysis of the efficiency in the Spanish National Barley Breeding Program. Past results and prospects for future improvements using molecular markers
Stover management, organic and mineral nitrogen fertilization effects on maize production and soil quality under irrigated Mediterranean conditions
Towards the engineering of the monoterpene secoiridoid pathway in transgenic tobacco plants
Use of plant and soil water status sensors to manage deficit irrigation in woody trees under Mediterranean conditions
Understanding and modulating vitamin C biosynthesis in corn and generating insect resistant corn plants expressing simultaneously multiple insecticidal genes
Forest dynamics at the montane-subalpine ecotone in the Eastern Pyrenees
Evaluation of Autumn Frost Resistance in Juglans regia L.
Emisiones de gases de efecto invernadero y protección del carbono orgánico del suelo en secanos Mediterráneos: efectos del laboreo y de la estrategia de fertilización

Año 2014
Mechanistic investigations of carotenoid and ketocarotenoid biosynthesis in rice.
Movement of predators in arable crop systems.
Control biológico en cultivos hortícolas: Efecto de los alimentos suplementarios en depredadores y parasitoides.
Enhancing biological control in apple orchards.
Las atmósferas modificadas integradas con otras tecnologías como alternativas sostenibles para el control de plagas en productos alimentarios almacenados.
Safety assessment and efficacy investigations of genetically engineered corn accumulating high levels of carotenoids.
Molecular identification and feeding ecology of arthropod generalist predators present in Mediterranean lettuce crops.
Contribución al conocimiento de la expresión fenotípica de variantes alélicas para los genes mayores Ppd-A1 y Ppd-B1 en trigo duro.
Response of yield and physiological attributes to nitrogen availability and heat in maize.
Rice endosperm as a production platform for third-generation HIV microbicides.
The generation of biofortified and wee-resistant cereal plants through genetic engineering.

Año 2015
Caracterización de Phytophthora infestans y mejora genética para la resistencia en patata.
Ecology, metereology and simulation of large wildland fires.
Process of colonization of the host plant by Sesamia nonagrioides gravid females.
Tree-species diversification in Sub-Mediterranean pine forests: drivers, consequences and management opcions .
Desarrollo y transferibilidad de los microsatélites en Prunus y su aplicación en estudios de variabilidad.
Efectos de los sistemas de labranza de los cereales sobre los organismos perjudiciales y beneficos del suelo en el sudeste bonaerense (Argentina).
Bread and durum wheat performance under a wide range of environmental conditions.
Mineral nitrogen fertilization and stover management effects on maize production under Irrigated Mediterranean conditions. Simulation of yields.
Grain yield determinants in a traditional and a modern wheat cultivar under a wide range of conditions in a Mediterranean region. Source-sink relationships, components, resource capture and use efficiencies.
Spatio-temporal modelling of stable isotopes in tree Mediterranean species (Quercus ilex L. and Pinus halepensis Mill.): a climatic and ecophysiological view.
Physiological and molecular responses to salicylic acid in potato virus X-infected tomato and maize dwarf mosaic virus-infected maize.
Última modificación: