Personal Information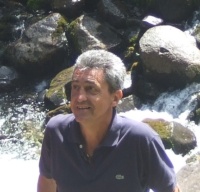 Position: Catedràtic d'Escola Universitària
Area of expertise: Silvicultura
Address: ETSEA, Edifici Principal A, despatx 0.12.3

Phone: +34 973 702523
E-mail: alvaro.aunos@udl.cat
University degrees
· Enginyer de Forest, Universitat Politècnica de Madrid (UPM), 1976
· Doctorat, UPM, 1990
Previous activities
· 1980 - 1992. Funcionari de carrera del Cuerpo Especial de Ingenieros de Montes del Estado. Destinació: Govern Basc (1981-1984)
· 1984 - 1992. Funcionari de carrera de la Diputació Foral de Gipuzkoa (Jefe de Sección).
· 1992 - Catedràtic d'Escola Universitària, Universitat de Lleida
· 1998 - 2013. Assessor del "Conselh Generau d'Aran" en matèria de gestió forestal
Research
· Components tecnològics de les podes en pollancres i noguers: intensitats i models de creixement
· Tipologies silvogenétiques: avet, pinassa i faig
· Avaluacions financeres de projectes forestals
Teaching
| | |
| --- | --- |
| · PRÀCTIQUES INTEGRADES III | Grau en Enginyeria Forestal |
| · SILVICULTURA | Grau en Enginyeria Forestal |
| · SILVICULTURA FUNCIONAL | Grau en Enginyeria Forestal |
| · POLÍTICA I LEGISLACIÓ FORESTAL | Màster Universitari en Enginyeria de Forests |
| · GOVERNANÇA FORESTAL | Màster Universitari en Enginyeria de Forests |
| · SILVICULTURA PREVENTIVA | Màster Universitari en Incendis Forestals.Ciència i Gestió Integral |
Recent Publications
Martín-Alcón S., Coll L., Aunós A. 2012. A broad-scale analysis of the amin factors determining the current structure and understory composition of Catalonian sub-alpine (Pinus uncinata Ram.) forests. Forestry, 85(2), 225-236.
Aunós A., Baiges T., Martín S. 2012. Entresaca por bosquetes en masas de pino silvestre. XXIX Jornades Silvícoles Emili Garolera 48-57.
Rodríguez, F., Pemán J., Aunós A. 2010. Eines per a l'estimació de la producció en les principals clons de pollancre. Silvicultura 62:3-6.
Rodríguez F., Pemán J., Aunós A. 2010. A reduced growth model based on stand basal area. A case for hybrid poplar plantations in northeast Spain. Forest Ecology and Management 259(10):2093-2102.
Aunós A. 2010. Árboles padre vs. árboles madre: ¿diferencia semántica o funcional? Montes: Revista de ámbito forestal 101:33-36.
Aunós A., Riba A., Blanco R. 2009. Caracterización selvícola de las masas monoespecíficas de pino laricio en Cataluña. Investigación Agraria-Sistemas y Recursos Forestales 18:338-349.


Per mes informació (Consultes GREC)
Last modification: